Mission Fertilizer - Grow the Best
Organic Registered Fertilizer Products
Are you struggling to maximize the yield of your crop using organic methods?
Mission Fertilizer solves the problem of when and how to properly feed your crop organically to get the highest yield and quality.
Our Mission is to simplify the Organic process and provide the best quality nutrients. Created and tested by Growers, we have developed a tried and tested organic feeding schedule. It takes the guess work out of when and how to feed your plants. Each of our fertilizers are developed for a specific stage of plant growth.

All of our products are registered by the California Department of Food and Agriculture (CDFA). When you are using Mission Fertilizer's Organic nutrient line, you don't have to sacrifice yield to grow Organically. By using our organic nutrient line you will get the taste and flavor that only Organic inputs can achieve. We believe in quality ingredients at an affordable price!
More Details
Order Today : Online & Secure

Payments processed securely through PayPal
– PayPal account not required.

Products delivered directly to your address
Easy Check out process
just click the link to one of our
products to get started.
Fertilizing schedule
Organic Fertilizing Schedule – Optimize each step of the growth cycle. From vegetative state to flowering and harvest.
ROOTS | GROW | BLOOM | SWEETEN | BOOST | ENHANCE
GROW GRANULAR | BLOOM GRANULAR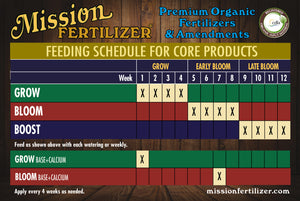 I love Mission Fertilizer! It's really easy to use and my plants love it too.

Daniel - California